Champion® Targets
When on the line, focused and ready for action, having quality targets downrange can make all the difference in a shooter's performance. Specifically designed for law enforcement use; these high visibility targets are designed to keep skills sharp and scores high. Choose from among some of the most popular designs as well as some trusted and proven favorites.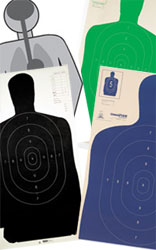 When winning or losing comes down to millimeters, be sure to practice with Champion's professional line of targets. These law enforcement silhouettes and sight-in targets feature a full line of professional grade targets for serious shooters.
40727 Police Silhouette B-27 24" x 45" (100 pk)
40728 LE B27CB Silhouette Target 24" x 45"; Green (25 pk)
40730 B-27e Targets 22.5" x 35" (100 pk)
40731 Anatomy Targets 23" x 35" (100 pk)
40732 LE B27FSA Silhouette Target 24" x 45" Green (100 pk)
40733 LE B27C Repair Center 12.5" x 18.5"; Green (100 pk)
45750 FBI Q Target 20" x 32" (100 pk)
45759 Police Silhouette Target B21-E 22.5" x 35" (100 pk)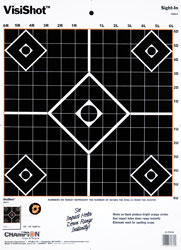 VisiShot target technology makes spotting scopes and trips down the range to check shot placement a thing of the past. Bright orange circles appear from shots on black.
45804 VisiShot Sight-in 13" x 18" (10 pk)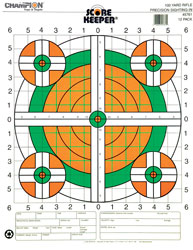 The Bright fluorescent colors helps to identify your mark and know where you hit. A "built-in" record-keeping section lets you track vital data to refine your loads and zero-in on tight groups. Available for rifles, pistols, and airguns.
45761 100 Yard Sight-In 14" x 18", Rifle, Fluorescent (12 pk)
45731 100 Yard Sight-In 14" x 18", Rifle, Fluorescent (100 pk)